Electric Hot Comb Ceramic Curler | Homfu Hair Straightener Curling brush
PRODUCTSPECIFICATION
Product:Professional Ceramic Electric Hot Comb
Material:Pure Copper
Fast Heting:60s Pre-heating time
Voltage : 100V-240V
Best For : Thick, Thick Hair Straightening
Temperature Adjustable :
"1"=124C "5"=133C "10"=150C "15"=166C "20"=210C
Additional Features : Swivel Cord
Weight: 0.85 lbs
Line Length : 70 In
Funtion&Feature
1.360 degree swivel cord prevents tangling and keeps you on the move.
2.Heats to Keratin-ideal 210 degree max temperature swiftly.
3.Automatic temperature lock for consistent heat throughout use.
4.Ceramic coating plate provides amazing shiny and healthy finishes.
5.Negative ions eliminate frizz and close the cuticle to create smooth,shiny hair,resulting in faster styling with less damage.
6.Suitable for all kinds of hair quality.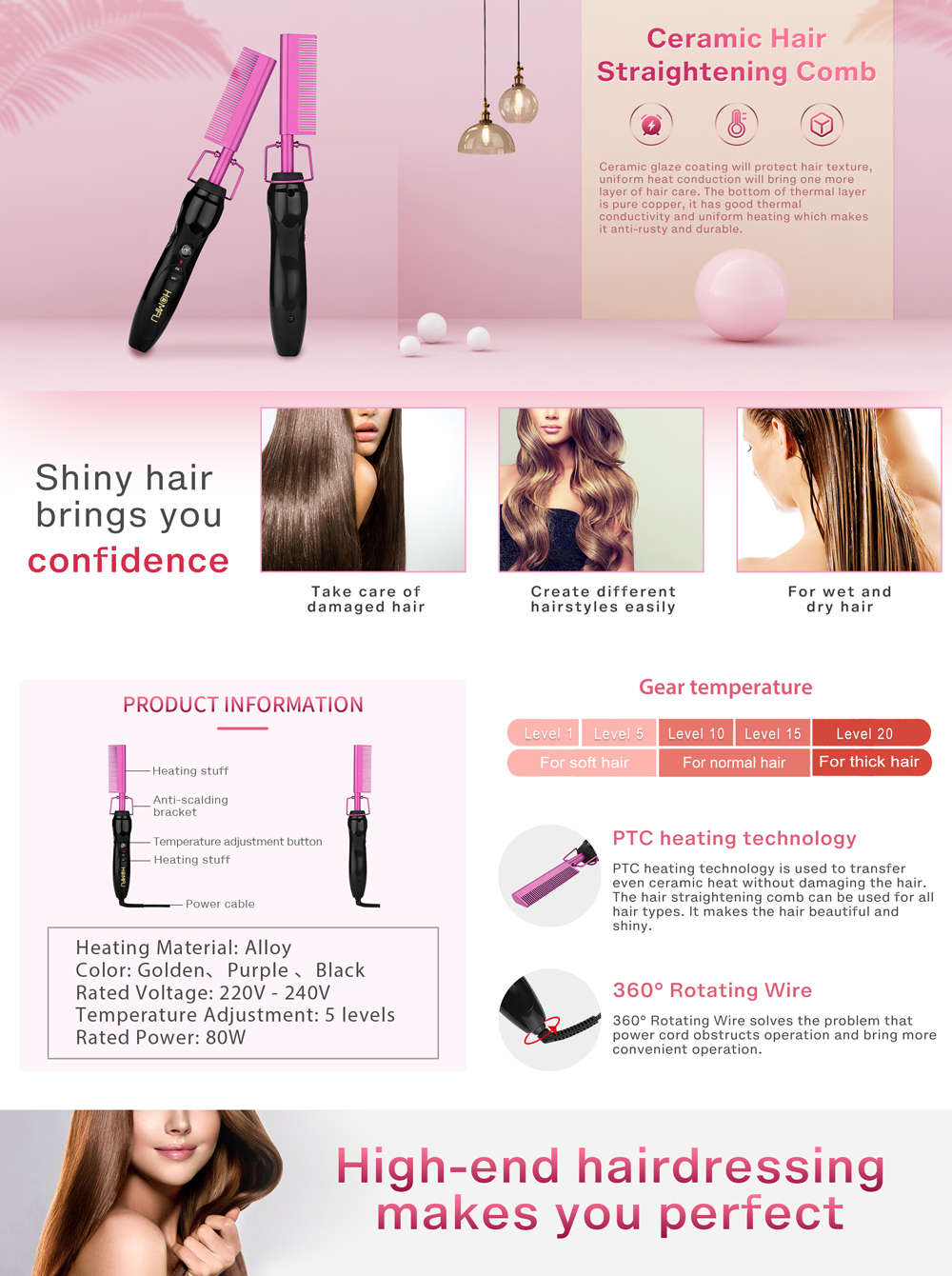 Stock Available & Support Local Shipping in USA, China
Order Shipping Time: 1-3 days after order
Carrier Delivery Time: Local Shipping from USA, 3-7 days; From China: 7-20 days
More Platforms to Buy this Electric Hot Comb
By*TSaturday, 11 December 2021
I lost all of my hair due to chemo and have been using wigs ever since. This wig is extremely comfortable and less "tangley" than the rest but it had volume in the wrong places making it look way too poofy, but this straightner helped control the craziness and added a much more natural look to it! So far no complaints and I love it!! It's working for my other wigs aswell!

Your cart is currently empty.